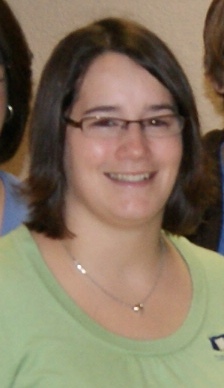 Amanda Byers, an employee for over 5 years, is the "Jack of All Trades" at the Grantsburg Branch.  In addition to her duties as a bookkeeper, she works as a teller, opens accounts and works with IRA's.  She also is charge of the Bank's  Kids Club and is currently training to be the Bank's BSA Officer.
Amanda has the longest commute of any bank employee; she comes all the way every day from Forest Lake, MN!  When asked about her long drive, she always says, "It's not so bad.  Since I'm the only one going from Minnesota to Wisconsin to work, the traffic is pretty light both ways!"  Amanda's coworkers appreciate her willingness to help out anywhere needed, and the positive attitude she brings everyday to work.
Outside of work, Amanda enjoys spending time with her children Cody and Kyle, her boyfriend Dave and his daughter Corrinne.  Her favorite time is sitting down to dinner with the whole family and laughing more than they eat!  When Amanda isn't busy taking her kids to lacrosse, football, and hockey, she and Dave  enjoy fishing, playing fantasy football, and going for motorcycle rides.