Community Bank Donates Golf Cart to Barron County Historical Society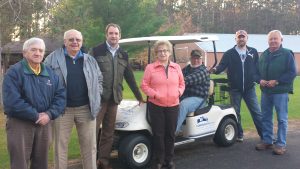 2017 – The Barron County Historical Society was one of our 2017 grant award winners, and their gift was our golf cart! The golf cart will be used to help transport volunteers as well as help the staff save some footsteps while attending to everyday business at the Pioneer Village Museum located in Cameron, WI.
Tim Gerber presented the golf cart to the historical society. He is the branch manager of Community Bank's Cameron location and also serves as current Chairman of the Barron County Historical Society's Board of Directors.
Pictured Left to Right. Jerry McRoberts, Bill Bergum, Tim Gerber, Bev Buckner, Jack Nedland, Kevin Hahn, Paul Flotum.