Community Bank Donates $2,500 to Burnett County Foster Closet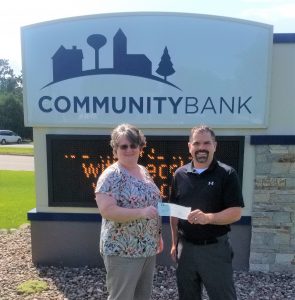 We are proud to award Burnett County Foster Closet with $2,500 through our annual Community Bank grant program. We feel the BCFC is a Good Neighbor, helping kids who are newly placed in foster care by providing the essential items they may need to help transition into their foster home. Grant funds will be used to provide each child with a bag including essential items appropriate for their age.

We have donation bins in our Siren, Grantsburg and Danbury branches if you're able to donate the following needed items: cash (please see a teller to make a donation), diapers/pull-ups, wipes, pacifiers, formula, infant sleepers, baby wash, bottles, sippy cups, baby food, onesies, outfits/underwear/pajamas/socks of all sizes, backpacks, soap, shampoo/conditioner, deodorant, night lights, duffle bags, body wash, feminine hygiene items, small stuffed animals.
Thanks to Peggy Moore and everyone else who donates their time and resources for our area youth through the Burnett County Foster Closet.
Pictured: Peggy Moore with BCFC and Jamie Morales, Community Bank's Siren & Danbury branch manager.