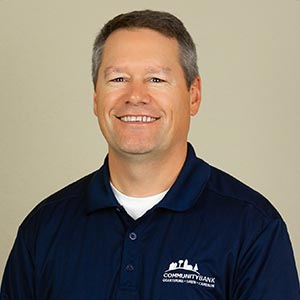 Message from our Bank President, Ted Gerber
A short time after we opened the branch in Grantsburg back in 1998, I got a call from a lender at another bank.  He told me they had a customer in Burnett County who ran a good business, but for some reason that bank didn't want to renew their loan.  His exact quote was, "These are honest, hard-working people and I sure hope you can help them out."  After meeting with them, we shared that lender's opinion and were able to work out a deal. Fast forward 25 years – Mike and Jean Waltzing (Whitetail Wilderness in Webster) are still customers, and I believe it has worked out great for both of us; we got a wonderful, loyal customer, and the Waltzing's got a bank they could count on.
At Community Bank, the story above is what we are striving for every day.  We want our customers to view us as long-term partners, there to celebrate the highs and help with the lows, to deliver honest opinions when asked, and find a work-around when needed.  But most of all, we want our customers to financially succeed.  If we keep that goal in mind, our business will take care of itself.
In the end, we want the same things – a relationship that both parties can count on.  That is what Community Bank is all about.