Nov. 16-30, 2020 Donation Drive
Join us in giving to those in need through these great organizations: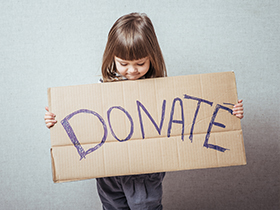 Burnett County Foster Closet Incorporated
Benjamin's House in Rice Lake.
Community Bank will donate $1.00 for every item donated (drop off items in any of our lobbies located in Cameron, Grantsburg, Siren and Danbury) between November 16-30.
Needs Wish List:
• Outfits for kids: leggings and tops for girls and athletic pants and tops for boys. Preferably no jeans.
• Socks and underwear: all sizes toddler to XL adult.
• Baby clothing such as onesies, outfits, sleepers.
• Shampoo, body wash, deodorant, brushes and combs.
• Diapers and pullups.
*New items only please
The Burnett County Foster Closet's goal is to provide each child a bag with a few essential items at the time they are first placed in foster care.
Benjamin's House in Rice Lake is dedicated to working with others to provide shelter, food, support services and an avenue to self-sufficiency for the homeless and people in need.
CASH Donations are also needed and appreciated. Please see a teller to donate money. Cash donations are not included in the matching donation. Matching item donations is up to $2,500.