Hangin' in there!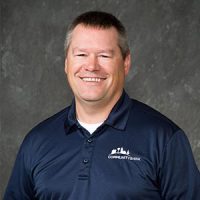 "Hangin' in there!"
You hear that a lot these days. It's an apt description of the situation; right now it feels like we are all just hanging on, waiting for something to happen (good or bad). The good news is people are making the best of a bad situation.
Businesses are adapting by changing their product offerings and delivery methods. And consumers have stepped up to help those businesses by purchasing local. The examples are everywhere. I know of a retired couple who are getting take-out from every restaurant in town once a week. A bar owner who is doing off-sale told us his beer distributor stated he's the highest volume seller on his route. I even know of a couple who, since their kids are home and they don't have day care, are sending their dog to the kennel every day to help out that business!
At Community Bank, we are doing our part as well. We've closed and funded over $2.5 million in Paycheck Protection Program loans for our customers, which allows businesses to keep paying their employees. We've modified dozens of loans to make the payments easier for our borrowers. And we are helping keep the economy moving by continuing to lend money to purchase vehicles, buy land, and build homes.
In the end, out here in the country we have to rely on each other. We truly are lucky to live and do business in communities that care so much for each other. And that's why there's no other place I'd rather be "hangin' in there" than here.