March 23-27 Donation Drive for Kids in Need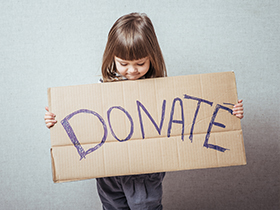 Join us in helping kids in our communities who are in need! Community Bank has teamed up with the Burnett County Foster Closet and organizations in Barron County and will donate $1 for every item donated or every $1 raised between March 23-27, up to $2,500. Stop in any of our branch locations in Grantsburg, Siren, Danbury and Cameron to make your donation. Here are some items that are most in need:
Diapers and Wipes (particularly size 1 and size 4)
Formula
Teen clothes
Underwear and socks (adult size)
Pack and plays
Baby gates
Car seats
Other general items always needed: Babies/Toddlers: Pull-ups, pacifiers, infant sleepers, baby wash, bottles, sippy cups, baby food, onesies, night lights, small stuffed animals. General: outfits, backpacks, soap, shampoo, conditioner, body wash, deodorant, pajamas, duffle bags, feminine hygiene items. They can also use money for rent.
About BCFC: The Burnett County Foster Closet's purpose is to provide each child a bag with a few essential items at the time they are first placed in care. Children are removed from their homes for a variety of reasons, none of which are their fault. To make their transition a little easier, we provide each child a backpack, duffle or tote bag with essential hygiene items appropriate for their age and gender, underclothing, a pair of pajamas and an outfit. Infants are provided with sleepers, diapers and wipes. The intent is to make the first 24 to 48 hours less stressful for both the child and the foster family they are placed with. Children removed can range in age from newborn infants  to 17 year olds. As the age range is so large, we need a variety of items from bottles to razors. Some items are used infrequently, like large adult pajamas, while others are a constant need, such as diapers. We are not funded by any governmental agency. All funds are from community sources such as grants and donations. We accept donations from individuals and businesses. All donations left at our drop-off locations should be new unused items. We also coordinate other services for Foster Families, if you are interested in providing a meal we will arrange pickup or delivery for you. If you have a specific item you would like to donate, please contact us with details. Some items that are gently used are acceptable when coordinated through the Director. Used car seats are not accepted at any time. Questions can be submitted on our Facebook page, Burnett County Foster Closet Incorporated  or  to  the  director, Peggy  Moore, at plmoore123@yahoo.com or at 715-349-8087 (all calls will be returned within 48 hours).