Ted Gerber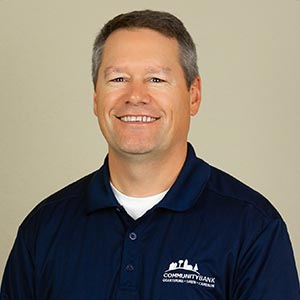 Ted Gerber has been at Community Bank since 1997, first as a Loan Officer and Branch Manager (Grantsburg) and then as President for the past 10 years. He has an undergraduate degree in Finance from the University of St Thomas and also completed the Graduate School of Banking program at University of Wisconsin Madison. Ted loves talking to people about their businesses and using the resources of Community Bank to help them thrive.
Outside of work he enjoys cooking, coaching baseball,  and spending time on the lake with his wife Kelly, three kids, and two Labrador Retrievers.
Ted is proud to call Burnett County his home.  His involvement in the community includes being on the Board of Directors for DSI Services, Inc. (a division of Catholic Charities), President of the Blizzard Blue Line Club, Treasurer of the Grantsburg Industrial Development Corporation, and  member of the Grantsburg Rotary Club.
"My favorite part of working at the Bank is helping someone purchase or open their own small business.  Seeing the pride they have walking out the door knowing they are now their own boss is something that never gets old."
Ted Gerber
Grantsburg Branch
NMLS # 489295
Phone: 715-463-3456
Email